All styles are handcrafted-to-order and can be made in a wide variety of layouts, either as a single piece or a sectional.
---
Quantity of seat & back cushions can be customized based on sizing & layout.
---
Custom sizing & layouts available.
Dimensions

Arm Width: 9"

Arm Height: 27.5"

Frame Depth: 42"

Frame Height: 27.5"

Overall Height: 34"

Seat Height: 18"

Seat Depth: 33" (w/o Back Pillow)

All dimensions are approximate as all pieces are handcrafted.
Fabric Options

Select from over 300 fabrics to find the right choice.
These options are not available for this style:
Leather
Matched C.O.M.
Sleeper
View full details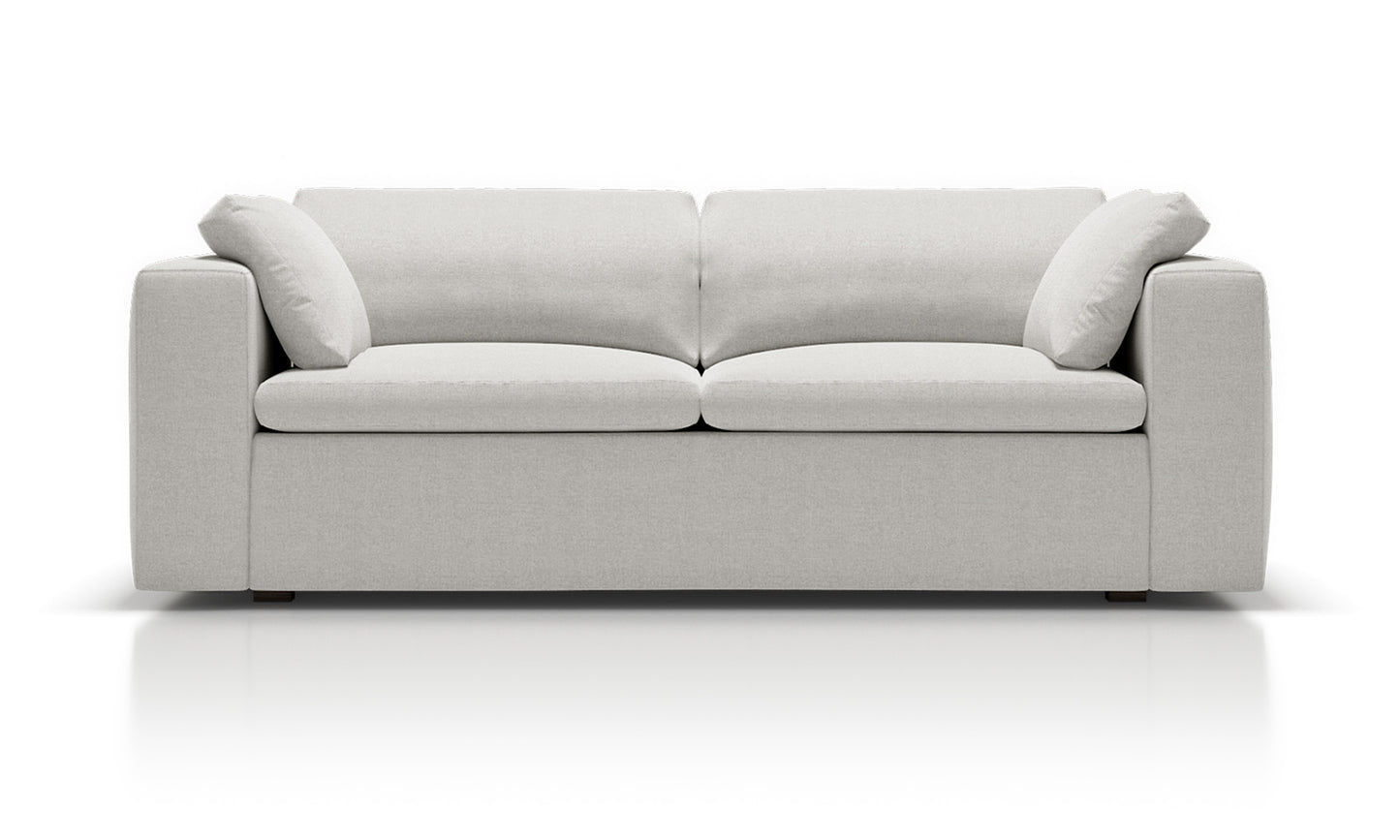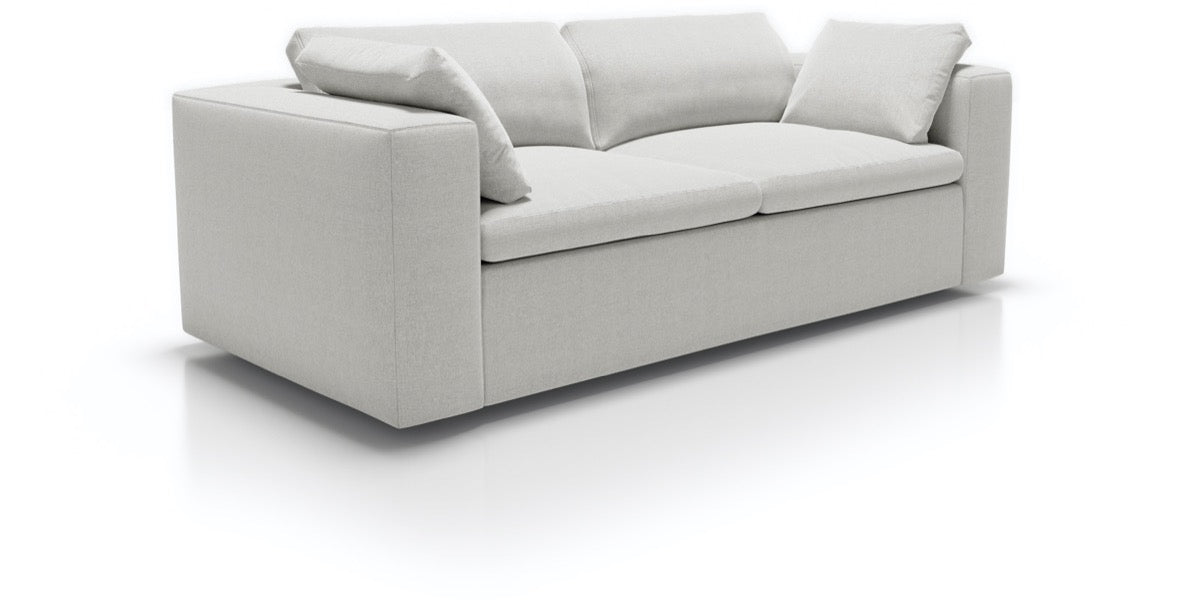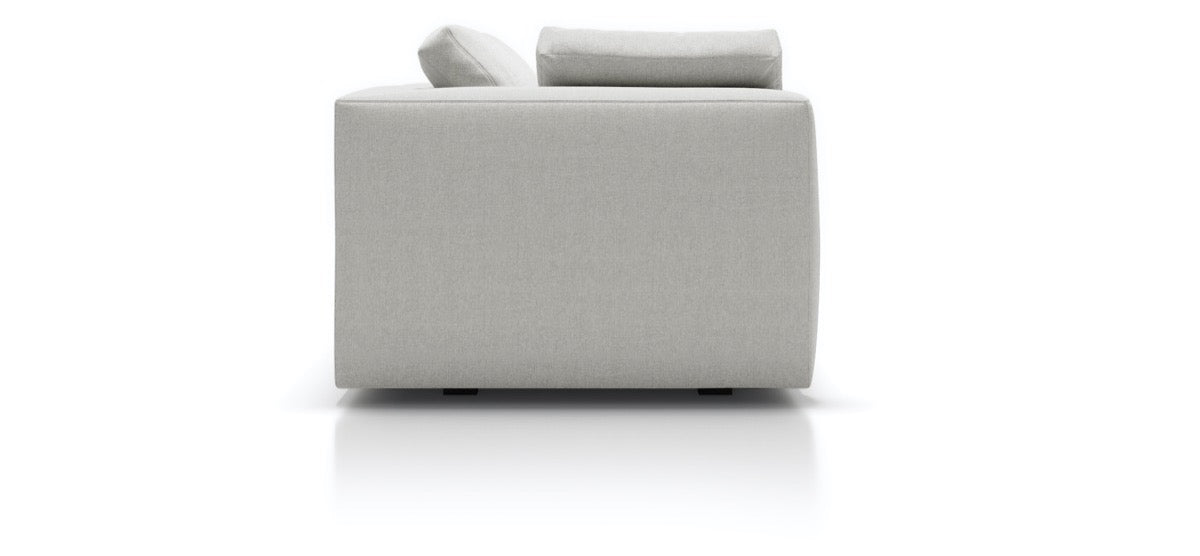 Custom Seat & Back Pillow Configuration Available On All Pieces
Sofa
Sofa
2 Arm
02-2A
90"w x 42"d
Sofa
1 Arm - Left Facing
02-LF
81"w x 42"d
Sofa
1 Arm - Right Facing
02-RF
81"w x 42"d
Sofa
Armless
02-AL
72"w x 42"d
Sofa w/ Return
Left-Facing
02-RTL
99"w x 42"d
Sofa w/ Return
Right-Facing
02-RTR
99"w x 42"d
Mid Sofa
Mid Sofa
2 Arm
03-2A
78"w x 42"d
Mid Sofa
1 Arm - Left Facing
03-LF
69"w x 42"d
Mid Sofa
1 Arm - Right Facing
03-RF
69"w x 42"d
Mid Sofa
Armless
03-AL
60"w x 42"d
Loveseats
Loveseat
2 Arm
04-2A
66"w x 42"d
Loveseat
1 Arm - Left Facing
04-LF
57"w x 42"d
Loveseat
1 Arm - Right Facing
04-RF
57"w x 42"d
Loveseat
Armless
04-AL
48"w x 42"d
Loveseat w/ Return
Left Facing
04-RTL
75"w x 42"d
Loveseat w/ Return
Right Facing
04-RTL
75"w x 42"d
Chaise
Chaise
2 Arm
05-2A
48"w x 72"d
Chaise
1 Arm - Left Facing
05-1ALF
39"w x 72"d
Chaise
1 Arm - Right Facing
05-1ARF
39"w x 72"d
Chaise
Armless
05-AL
30"w x 72"d
Bumper
Bumper
Left Facing
06-BLF
86"w x 42"d
Bumper
Right Facing
06-BRF
86"w x 42"d
Chairs
Chair
2 Arm
07-2A
44"w x 42"d
Chair
1 Arm - Left Facing
07-LF
35"w x 42"d
Chair
1 Arm - Right Facing
07-RF
35"w x 42"d
Chair
Armless
07-AL
26"w x 42"d
Separate Corner
Wedge
Round Back
08-CRW
52"w x 52"d
Wedge
Square Back
09-CSW
52"w x 52"d
Square
Normal
10-CSN
42"w x 42"d
Ottoman
Ottoman
Square
11-SQ
42"w x 42"d
Ottoman
Rectangle
13-R
42"w x 30"d
Corner Sectionals
Sofa + Loveseat
99" x 99" x 42"d
04-LF
57"w x 42"d
02-RTR
99"w x 42"d
Left L
123" x 99" x 42"d
02-LF
81"w x 42"d
02-RTR
99"w x 42"d
Right L
99"w x 123" x 42"d
02-RTL
99"w x 42"d
02-RF
81"w x 42"d
Chaise Sectionals
Loveseat + Right Chaise
96"w x 72"d
04-LF
57"w x 42"d
05-1ARF
39"w x 72"d
Loveseat + Left Chaise
96"w x 72"d
04-RF
57"w x 42"d
05-1ALF
39"w x 72"d
Sofa + Right Chaise
120"w x 72"d
02-LF
81"w x 42"d
05-1ARF
39"w x 72"d
Sofa + Left Chaise
120"w x 72"d
02-RF
81"w x 42"d
05-1ALF
39"w x 72"d
Loveseat + Double Chaise
126"w x 72"d
05-1ALF
39"w x 72"d
04-AL
48"w x 42"d
05-1ARF
39"w x 72"d
Sofa + Double Chaise
150"w x 72"d
05-1ALF
39"w x 72"d
02-AL
72"w x 42"d
05-1ARF
39"w x 72"d
Corner Sectional + Right Chaise
99"w x 129"w x 72"d
02-RTL
99"w x 42"d
04-AL
48"w x 42"d
05-1ARF
39"w x 72"d
Corner Sectional + Left Chaise
129"w x 99"w x 72"d
05-1ALF
39"w x 72"d
04-AL
48"w x 42"d
02-RTR
99"w x 42"d
L Sectional + Right Chaise
99"w x 153"w x 72"d
02-RTL
99"w x 42"d
02-AL
72"w x 42"d
05-1ARF
39"w x 72"d
L Sectional + Left Chaise
153"w x 99"w x 72"d
05-1ALF
39"w x 72"d
02-AL
72"w x 42"d
02-RTR
99"w x 42"d
Bumper Sectionals
Sofa + Left Bumper
86"w x 123"w x 42"d
06-BLF
86"w x 42"d
02-RF
81"w x 42"d
Sofa + Right Bumper
123"w x 86"w x 42"d
02-LF
81"w x 42"d
06-BRF
86"w x 42"d
Wedge Sectionals
Loveseat + Wedge + Loveseat
109"w x 109"w x 42"d
04-LF
57"w x 42"d
08-CRW
52"w x 52"d
04-RF
57"w x 42"d
Sofa + Wedge + Sofa
133"w x 133"w x 42"d
02-LF
81"w x 42"d
08-CRW
52"w x 52"d
02-RF
81"w x 42"d
Loveseat + Wedge + Sofa
109"w x 133"w x 42"d
04-LF
57"w x 42"d
08-CRW
52"w x 52"d
02-RF
81"w x 42"d
Sofa + Wedge + Loveseat
133"w x 109"w x 42"d
02-LF
81"w x 42"d
08-CRW
52"w x 52"d
04-RF
57"w x 42"d
Loveseat + Wedge + Sofa + Chaise
109"w x 163"w x 72"d
04-LF
57"w x 42"d
08-CRW
52"w x 52"d
02-AL
72"w x 42"d
05-1ARF
39"w x 72"d
Chaise + Sofa + Wedge + Loveseat
163"w x 109"w x 72"d
05-1ALF
39"w x 72"d
02-AL
72"w x 42"d
08-CRW
52"w x 52"d
04-RF
57"w x 42"d
Sofa + Wedge + Sofa + Chaise
133"w x 163"w x 72"d
02-LF
81"w x 42"d
08-CRW
52"w x 52"d
02-AL
72"w x 42"d
05-1ARF
39"w x 72"d
Chaise + Sofa + Wedge + Sofa
163"w x 133"w x 72"d
05-1ALF
39"w x 72"d
02-AL
72"w x 42"d
08-CRW
52"w x 52"d
02-RF
81"w x 42"d
U Sectionals
Sofa + Sofa + Sofa
99"w x 156"w x 99"w x 42"d
02-RTL
99"w x 42"d
02-AL
72"w x 42"d
02-RTR
99"w x 42"d