All styles are handcrafted-to-order and can be made in a wide variety of layouts, either as a single piece or a sectional.
---
Quantity of seat & back cushions can be customized based on sizing & layout.
---
Custom sizing & layouts available.
Dimensions

Arm Width: 3"

Arm Height: 24"

Frame Depth: 39"

Frame Height: 30"

Overall Height: 32"

Seat Height: 18"

Seat Depth: 29" (w/o Back Pillow)

All dimensions are approximate as all pieces are handcrafted.
Fabric Options

Select from over 300 fabrics to find the right choice.
Leg Finishes

Aries

Ash Grey

Black Satin

Black Wash

Coastal Driftwood

Cottage Grey

Early American

Espresso

Grey Wash

Kona

Mahogany

Montana Walnut

Natural

Sea Drift

Silver Ash

Umber

Weathered Blonde

Weathered Dove

Weathered Oak

Weathered Smoke
View full details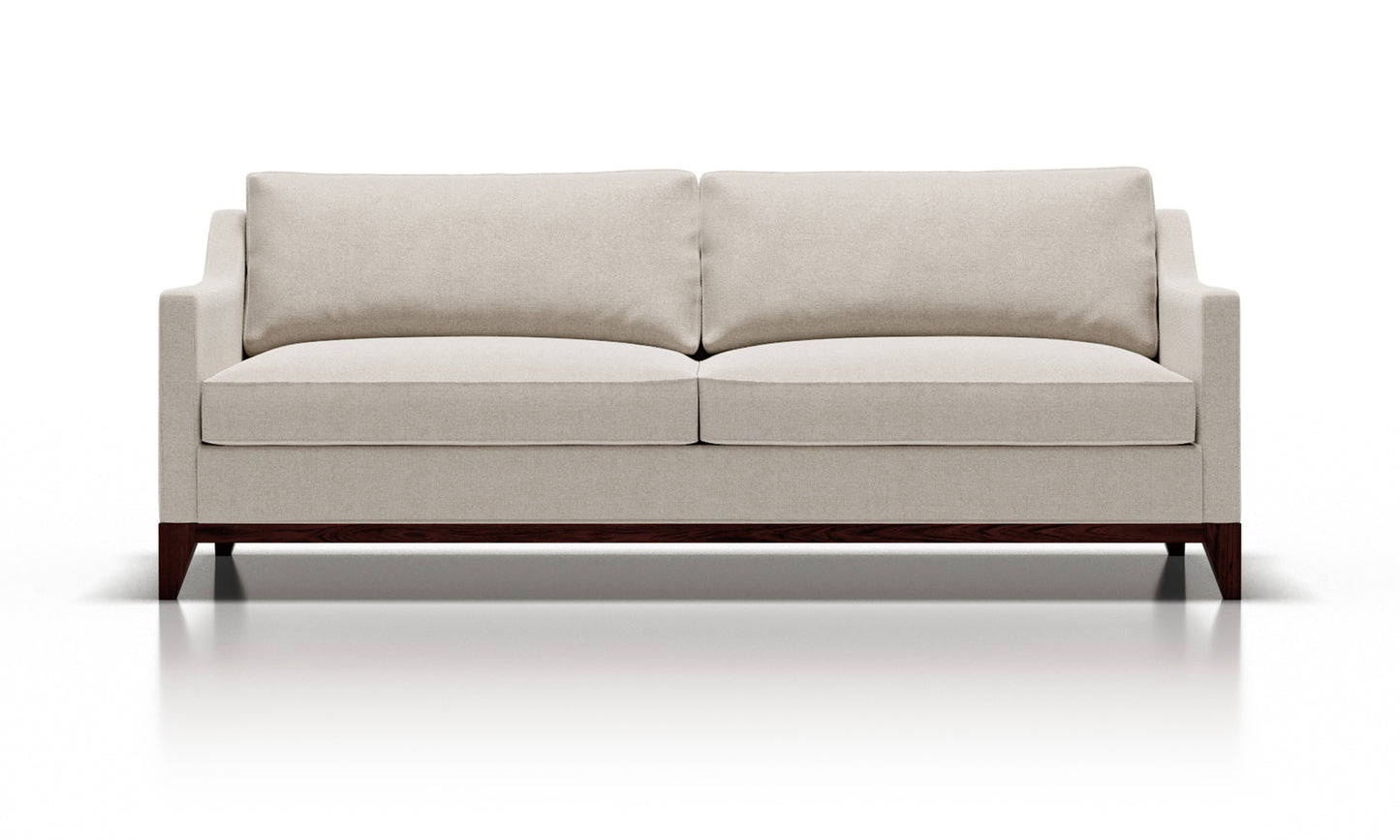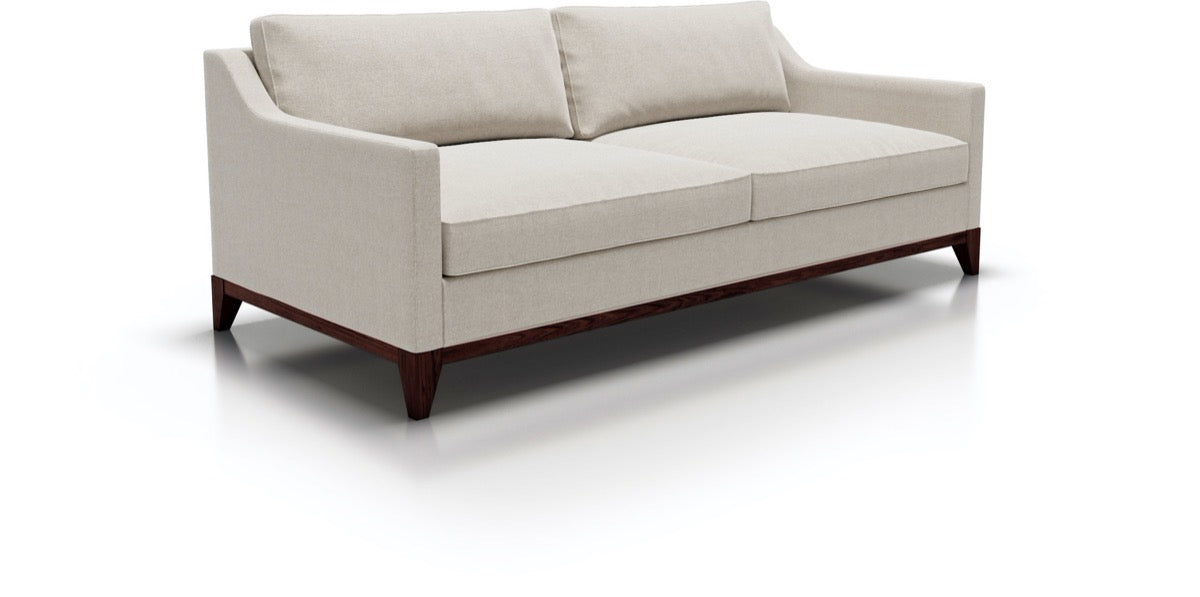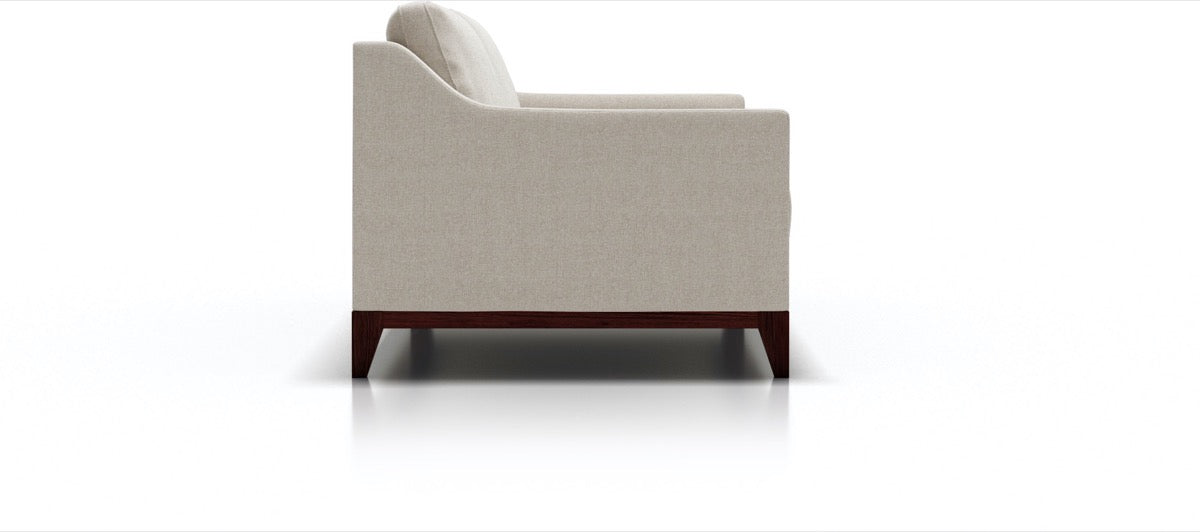 Custom Seat & Back Pillow Configuration Available On All Pieces
Sofa
Sofa
2 Arm
02-2A
84"w x 39"d
Sofa
1 Arm - Left Facing
02-LF
81"w x 39"d
Sofa
1 Arm - Right Facing
02-RF
81"w x 39"d
Sofa
Armless
02-AL
78"w x 39"d
Sofa w/ Return
Left-Facing
02-RTL
94"w x 39"d
Sofa w/ Return
Right-Facing
02-RTR
94"w x 39"d
Mid Sofa
Mid Sofa
2 Arm
03-2A
66"w x 39"d
Mid Sofa
1 Arm - Left Facing
03-LF
63"w x 39"d
Mid Sofa
1 Arm - Right Facing
03-RF
63"w x 39"d
Mid Sofa
Armless
03-AL
60"w x 39"d
Loveseats
Loveseat
2 Arm
04-2A
58"w x 39"d
Loveseat
1 Arm - Left Facing
04-LF
55"w x 39"d
Loveseat
1 Arm - Right Facing
04-RF
55"w x 39"d
Loveseat
Armless
04-AL
52"w x 39"d
Loveseat w/ Return
Left Facing
04-RTL
68"w x 39"d
Loveseat w/ Return
Right Facing
04-RTL
68"w x 39"d
Chaise
Chaise
2 Arm
05-2A
36"w x 68"d
Chaise
1 Arm - Left Facing
05-1ALF
33"w x 68"d
Chaise
1 Arm - Right Facing
05-1ARF
33"w x 68"d
Chaise
Armless
05-AL
30"w x 68"d
Bumper
Bumper
Left Facing
06-BLF
85"w x 39"d
Bumper
Right Facing
06-BRF
85"w x 39"d
Chairs
Chair
2 Arm
07-2A
32"w x 39"d
Chair
1 Arm - Left Facing
07-LF
29"w x 39"d
Chair
1 Arm - Right Facing
07-RF
29"w x 39"d
Chair
Armless
07-AL
26"w x 39"d
Separate Corner
Wedge
Round Back
08-CRW
50"w x 50"d
Wedge
Square Back
09-CSW
50"w x 50"d
Square
Normal
10-CSN
39"w x 39"d
Ottoman
Ottoman
Square
11-SQ
30"w x 30"d
Storage Ottoman
Square
12-SQST
30"w x 30"d
Ottoman
Rectangle
13-R
30"w x 24"d
Storage Ottoman
Rectangle
14-RST
30"w x 24"d
Corner Sectionals
Sofa + Loveseat
94" x 94" x 39"d
04-LF
55"w x 39"d
02-RTR
94"w x 39"d
Left L
120" x 94" x 39"d
02-LF
81"w x 39"d
02-RTR
94"w x 39"d
Right L
94"w x 120" x 39"d
02-RTL
94"w x 39"d
02-RF
81"w x 39"d
Chaise Sectionals
Loveseat + Right Chaise
88"w x 68"d
04-LF
55"w x 39"d
05-1ARF
33"w x 68"d
Loveseat + Left Chaise
88"w x 68"d
04-RF
55"w x 39"d
05-1ALF
33"w x 68"d
Sofa + Right Chaise
114"w x 68"d
02-LF
81"w x 39"d
05-1ARF
33"w x 68"d
Sofa + Left Chaise
114"w x 68"d
02-RF
81"w x 39"d
05-1ALF
33"w x 68"d
Loveseat + Double Chaise
118"w x 68"d
05-1ALF
33"w x 68"d
04-AL
52"w x 39"d
05-1ARF
33"w x 68"d
Sofa + Double Chaise
144"w x 68"d
05-1ALF
33"w x 68"d
02-AL
78"w x 39"d
05-1ARF
33"w x 68"d
Corner Sectional + Right Chaise
94"w x 124"w x 68"d
02-RTL
94"w x 39"d
04-AL
52"w x 39"d
05-1ARF
33"w x 68"d
Corner Sectional + Left Chaise
124"w x 94"w x 68"d
05-1ALF
33"w x 68"d
04-AL
52"w x 39"d
02-RTR
94"w x 39"d
L Sectional + Right Chaise
94"w x 150"w x 68"d
02-RTL
94"w x 39"d
02-AL
78"w x 39"d
05-1ARF
33"w x 68"d
L Sectional + Left Chaise
150"w x 94"w x 68"d
05-1ALF
33"w x 68"d
02-AL
78"w x 39"d
02-RTR
94"w x 39"d
Bumper Sectionals
Sofa + Left Bumper
85"w x 120"w x 39"d
06-BLF
85"w x 39"d
02-RF
81"w x 39"d
Sofa + Right Bumper
120"w x 85"w x 39"d
02-LF
81"w x 39"d
06-BRF
85"w x 39"d
Wedge Sectionals
Loveseat + Wedge + Loveseat
105"w x 105"w x 39"d
04-LF
55"w x 39"d
08-CRW
50"w x 50"d
04-RF
55"w x 39"d
Sofa + Wedge + Sofa
131"w x 131"w x 39"d
02-LF
81"w x 39"d
08-CRW
50"w x 50"d
02-RF
81"w x 39"d
Loveseat + Wedge + Sofa
105"w x 131"w x 39"d
04-LF
55"w x 39"d
08-CRW
50"w x 50"d
02-RF
81"w x 39"d
Sofa + Wedge + Loveseat
131"w x 105"w x 39"d
02-LF
81"w x 39"d
08-CRW
50"w x 50"d
04-RF
55"w x 39"d
Loveseat + Wedge + Sofa + Chaise
105"w x 161"w x 68"d
04-LF
55"w x 39"d
08-CRW
50"w x 50"d
02-AL
78"w x 39"d
05-1ARF
33"w x 68"d
Chaise + Sofa + Wedge + Loveseat
161"w x 105"w x 68"d
05-1ALF
33"w x 68"d
02-AL
78"w x 39"d
08-CRW
50"w x 50"d
04-RF
55"w x 39"d
Sofa + Wedge + Sofa + Chaise
131"w x 161"w x 68"d
02-LF
81"w x 39"d
08-CRW
50"w x 50"d
02-AL
78"w x 39"d
05-1ARF
33"w x 68"d
Chaise + Sofa + Wedge + Sofa
161"w x 131"w x 68"d
05-1ALF
33"w x 68"d
02-AL
78"w x 39"d
08-CRW
50"w x 50"d
02-RF
81"w x 39"d
U Sectionals
Sofa + Sofa + Sofa
94"w x 156"w x 94"w x 39"d
02-RTL
94"w x 39"d
02-AL
78"w x 39"d
02-RTR
94"w x 39"d